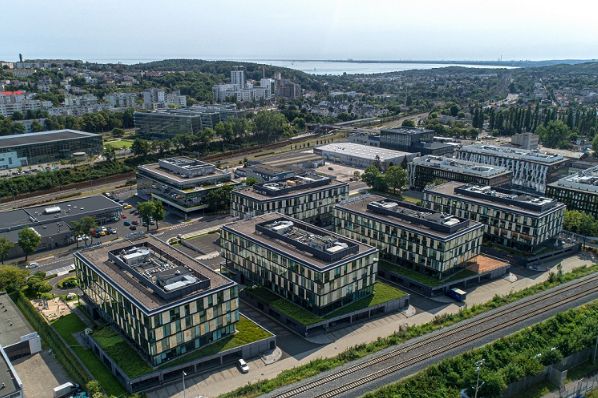 DELTA legal advises INVESTIKA real estate fund on acquisition of five buildings in Łużycka office complex
DELTA legal assisted with the further expansion of the INVESTIKA real estate fund (IRF) in Poland, providing legal consultancy during the acquisition of the lucrative office campus Office Park Łużycka in Gdynia this autumn. The complex consists of five buildings with total rentable area of more than 27,000 square metres. The campus will be connected to the neighbouring Tensor park, which IRF acquired in July 2022, also in cooperation with DELTA legal.
The commercial-administrative district of Gdynia where the Łużycka and Tensor office parks are situated, lies in the strategically developing Tri-city region. It is a region comprised of the cities of Gdynia, Gdańsk and Sopot, currently one of the most desirable places to live and do business in a very dynamic Poland. The Łużycka Office Park is completely leased to exclusive renters, including Santander, Nordea Bank and Columbia Pictures.
The DELTA legal team consisting of Pavel Fára, Libor Vacek, Veronika Chrobok, Jiří Absolon and Denisa Bučilová was responsible for the Czech part of the transaction, including the preparation of complex transactional documentation, preceded by a thorough legal audit of the target company and business coordination with demands not only from the client but also from their JV partner. IRF completed the acquisition, together with the Luxembourg private equity company BUD HOLDINGS, through an entry of a European Society, which allows the expectations of all involved parties to be adequately considered. As the complex was owned by multiple entities each with different interests, it was necessary to settle and coordinate entries from multiple jurisdictions on the Czech side. The team also had to consider the results of ongoing technical and tax background checks, and finally, the requirement of the bank, which funded the complex in the past.
DELTA legal already has extensive experience providing cross-border advice of this kind. Its past ventures in Poland include advising IRF on its entry into the Polish market with the Szyperská transaction or the acquisition of the Adient manufacturing and logistics complex in Wrocław.
The Łużycka Office Park offers great potential to IRF for several reasons. "For us, Łużycka represented another great opportunity to expand our portfolio, already consisting of four European countries, with a high-quality property in one of the most sought-after locations in Poland, which moreover we are already well acquainted with," said Václav Kovář, portfolio manager at IRF. "The office segment continues to be very interesting from the business point of view. The decisive factors are primarily the quality of the buildings, renters and the locality. Properties with the characteristics which Łużycka possesses have a great intrinsic value, which they will retain in the future. DELTA legal is a reliable partner during these acquisitions, who thanks to our long-term cooperation knows what is essential to us in documentation. This saves us time, which we can then use on the business side of things and thus offer the most interesting buildings to our clients while further expanding them."
Since its establishment in 2015, the INVESTIKA real estate fund, an open share fund managed by INVESTIKA, investiční společnost a.s., has been focusing on growing its clients' funds through conservative investments in commercial real estate. It is currently the largest non-bank retail real estate fund in Czechia and Slovakia, with a fund capital of CZK 13.3 billion. Since its establishment, it has brought an appreciation of more than 43% (CZK class) to its clients from the general public. In 2020, assets in the EUR class were established and grew 8.96% in 2021. For more information about INVESTIKA and the INVESTIKA real estate fund, please visit www.investika.cz.
BUD HOLDINGS SA. is a private company based in Luxembourg dealing with investments of private capital into mostly real estate assets. It focuses on the preparation and realization of investments in Central and Eastern Europe, usually in cooperation with a strong majority shareholder. During the last three years, BUD HOLDINGS SA. has been part of real estate transactions with total value over EUR 200 million. For more information about BUD HOLDINGS SA. please visit www.bud-holdings.com.
The DELTA legal law firm has maintained a long-term focus on transactional work in the Czech Republic and cross-border transactions, especially in Poland and Slovakia. Thanks to its membership in international networks, DELTA legal offers legal consultancy all over the world and can effectively resolve even cross-border aspects. Recently, the firm successfully assisted clients in significant logistics, retail and office projects, and even with a few sales of castles with heritage protection. DELTA legal offers legal advisory services through the whole property lifecycle, and besides transactional advice also offers legal consultancy in all other commercial fields, including life sciences.
https://deltalegal.cz/wp-content/uploads/2022/12/Luzycka1.jpg
398
598
DELTA
https://deltalegal.cz/wp-content/uploads/2021/07/delta-legal-9-327x91-1.png
DELTA
2022-12-13 20:40:36
2022-12-13 20:40:36
DELTA legal advises INVESTIKA real estate fund on acquisition of five buildings in Łużycka office complex