Stricter regulation of healthcare advertising has been in force since the end of May. This applies in particular to medical devices, such as eyeglasses, nose drops, prosthetic devices, cough lozenges, patches and medical technology. However, some seemingly ordinary products, such as cosmetics or other "health-targeted" products, may also be affected by the new rules.   
Veronika Chrobok and Denisa Bučilová have prepared a seminar for our clients with points to watch out for.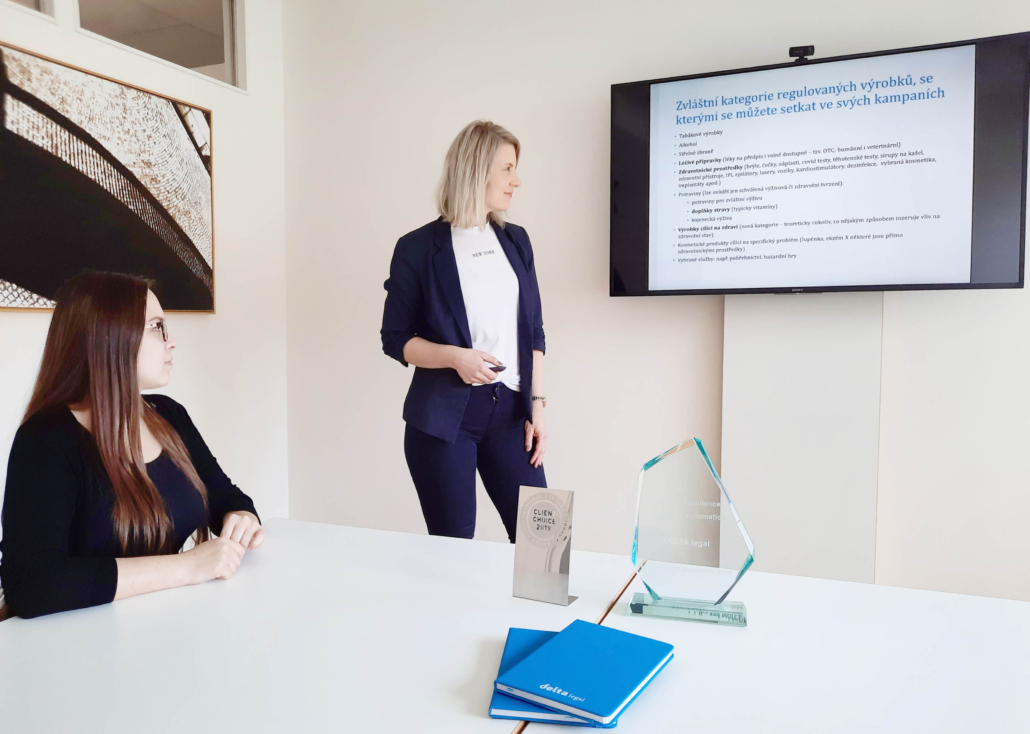 The presentation specified that doctors, scientists, experts, actors or other potentially influential persons must not appear in advertising to the general public for healthcare products. Any form of advertising (even a social media post) must include the phrase "healthcare product" or other essentials.   
A completely new and unfortunately very unclear category of advertising regulation is health-targeted products. Although the law in this section was intended to restrict advertising of "fraudulent" products such as miracle, all-healing stones, rings, etc., the phrase "health-targeted products" as currently drafted may also include relatively common products such as ergonomic chairs or cosmetics targeting a specific health problem. These products would then also be covered, for example, by the ban on promoting them in collaboration with influencers.  
If you are an advertising agency, we recommend:  
– carefully reviewing your contracts with clients; 
– checking the information and instructions provided by the client regarding the advertised products;  
– reviewing your internal procedures for preparing advertising materials and events;  
– clarifying the rules of cooperation with influencers.  
At DELTA legal, we provide services in both health law and advertising law. We will be pleased if you discuss your case with us. If you would like more information, please get in touch with your contact person in our office or Veronika Chrobok. 
[sc name="mailchimp-signup-form" ][/sc]
https://deltalegal.cz/wp-content/uploads/2021/07/141834-scaled.jpg
1825
2560
DELTA
https://deltalegal.cz/wp-content/uploads/2021/07/delta-legal-9-327x91-1.png
DELTA
2021-07-29 11:18:27
2021-08-04 10:59:52
Advertising agencies take note! The advertising preparer is responsible for the compliance of the advertisement with the law