The Psychedelics Research Foundation (PSYRES) created a unique mobile app, iTrip, to assess psychedelic experiences and provide valuable data for research and user safety. This is thanks to the voluntary collaboration with expert researchers, psychiatrists and psychologists from Charles University, the National Institute of Mental Health, the Czech Psychedelic Society and others.
DELTA Legal advised on selected legal aspects of developing and operating a mobile app, including related intellectual property issues of the project and individual developers or data protection. Details on the operation of the app can be found here.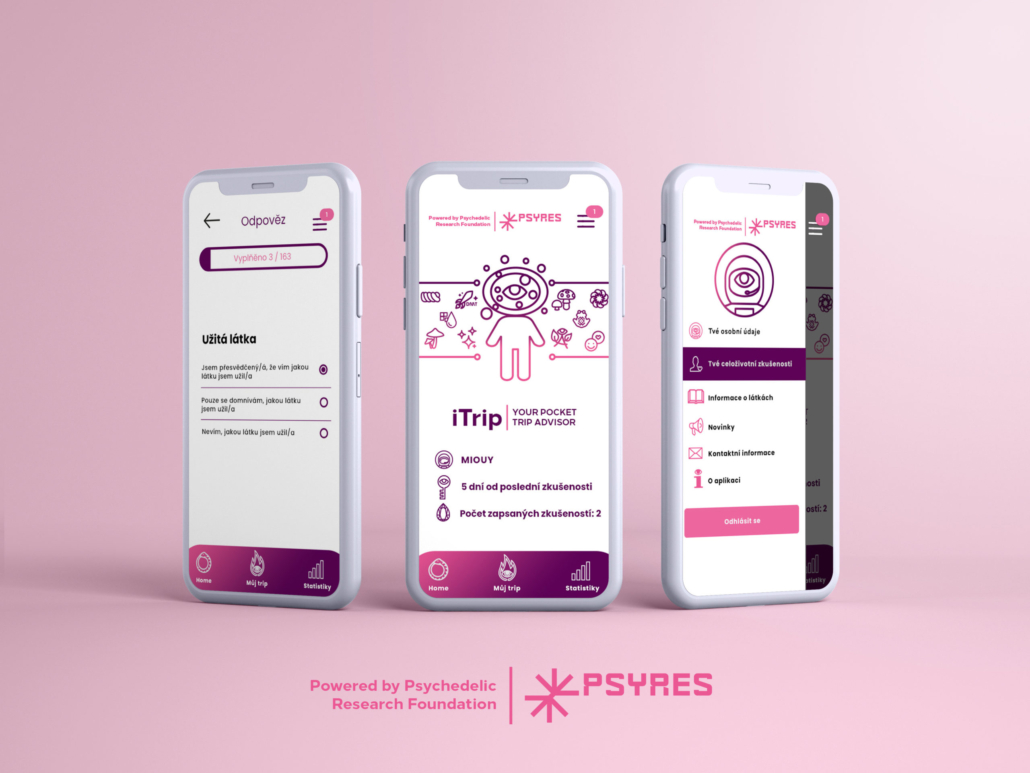 The iTrip App targets a broad population of people who come into contact with psychedelics, from patients to casual users. These substances are now often discussed in the context of their potential therapeutic use in the treatment of mental illness. Czech scientists are among the first in the world to take a progressive approach to this topic and to use modern technology to study psychedelics in the general population.
The mobile app allows for the collection of up-to-date data that will be used to gain a deeper and more comprehensive understanding of psychedelics, the context of their use, anonymized characteristics of the user population, subjective feelings and experiences of users, and will capture the long-term impact of the psychedelic experience on the psychological (un)well-being of individuals. In turn, it will enable users to keep their own psychedelic experiences in the context of the experiences of the whole user population, provide a more comprehensive view of their own mental health (through questionnaires and notifications) and offer tools to reduce the risks associated with psychedelic use through clearly structured information on specific substances with listed resources and contacts to specialist centres. The app thus also acts as an effective prevention tool in the sense of "harm reduction".
The app uses state-of-the-art security technologies such as encryption of data using the AES256-GCM standard and its complete handling strictly in accordance with the relevant data protection and privacy legislation. No personal information will be entered or stored anywhere. Results published in scientific journals are always strictly anonymous and are presented in the form of the total data set after statistical processing. The implementation of the application and related research have been approved by the Ethics Committee of the National Institute of Mental Health.
We believe that this project will meet all expectations and look forward to further interesting assignments in this field.
[sc name="mailchimp-signup-form" ][/sc]
https://deltalegal.cz/wp-content/uploads/2021/07/2b-scaled-1.jpg
1920
2560
DELTA
https://deltalegal.cz/wp-content/uploads/2021/07/delta-legal-9-327x91-1.png
DELTA
2021-07-20 15:31:00
2021-08-04 11:04:22
DELTA legal provided legal services to the PSYRES Foundation for the iTrip App